Vertical Cable is Your End-to-End Network Solution.
All components perform at their finest. Guaranteed.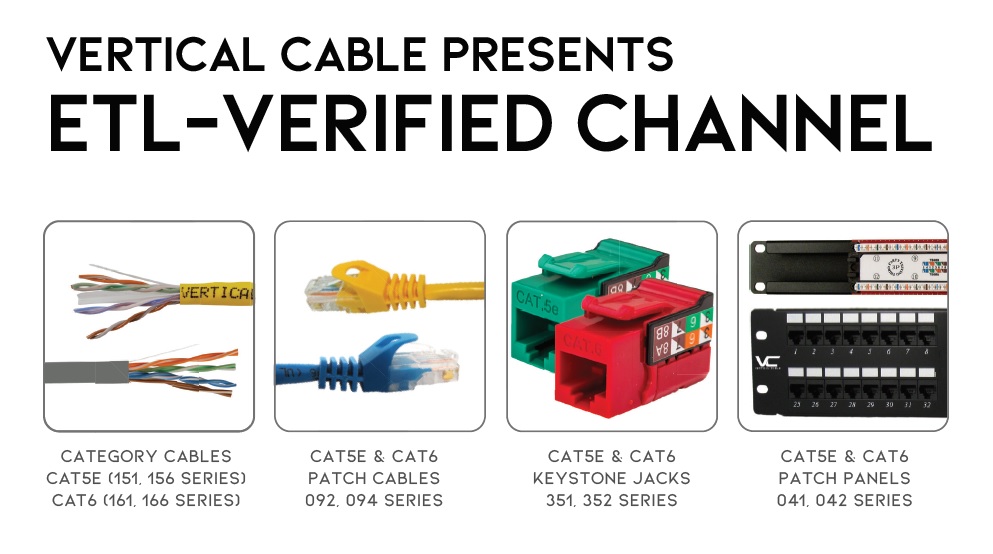 ETL-Verified Solution consists of:
– Category Cable (CAT5E & CAT6 CMP, CMR)
151, 156 Series, 161, 166 Series
– Patch Cords
092, 094 Series
– Keystone Jacks
351, 352 Series
– Patch Panels
041, 042 Series
*****************
About ETL Listed Mark
Intertek's ETL Certification program is designed to help you get products tested, certified, and on to market faster than ever before.
ETL was born into a culture of innovation. It was in Thomas Edison's lighting laboratories where it all began, and to this day we still breathe the same air of innovation, safety and quality. We understand a manufacturer's need to get new products to market quickly to achieve the greatest success, therefore we have built speed, responsiveness and urgency into our processes. Our commitment to helping customers gain the certifications they need quickly and efficiently has never been greater.
The ETL Mark is proof of product compliance to North American safety standards. Authorities Having Jurisdiction(AHJs) and code officials across the US and Canada accept the ETL Listed Mark as proof of product compliance to published industry standards. Retail buyers accept it on products they're sourcing. And every day, more and more consumers recognize it on products they purchase as a symbol of safety.